David C. L. Cheung studied at Ontario College of Art and has been exhibiting since 1979. His goal is to bring balance between the conscious and subsconscious through the use of art.
Strongly influenced by his young sons, he has found a place for their risk taking and exquisite sensitive innocence within his art. He often invites his children to join the process of making this art. We are invited to join in the play.
Not limited by one style he offers us installation pieces, performance pieces, and conceptal projects. He is now enthused with the computer and NET as they add to the rich palette of life. As he says, "I will continue to explore, experience, and aquire knowledge in painting, of course consciously and subsconsciously."
Below you are invited to take a journey for Canada. The child like enthusiasm will invite you into the subconscious.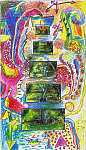 Instappletion